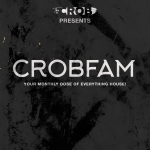 In todays episode, for the first time in CROBFAM history…. a DJ TRIO(!) is joining the show. Please welcome THRILL! These guys have been destroying dance floors all over the Czech Republic and are especially known for their strong bass house music.
As usual I'll warm up the decks in the first hour of the show, followed by THRILL their guest mix in the second half of the show! Enjoy!
A new episode of CROBFAM is broadcasted every last Tuesday of the month at EJRRADIO.COM from 6 to 8PM EST (24:00 – 02:00 GMT+1).
Be sure to follow me at https://www.instagram.com/thisiscrob/
You can find out more about our special guest THRILL by visiting their socials at: https://www.instagram.com/musicbythrill/