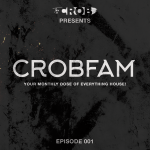 Thanks for tuning into the EIGHTEENTH episode of CROBFAM! Your monthly dose of everything house! From bass to tech, from future to trap we have it all!
Get ready for 2(!) hours of continuously mixed music by yours truly.
A new episode of CROBFAM is broadcasted every last Tuesday of the month at EJRRADIO.COM from 6 to 8PM EST (24:00 – 02:00 GMT+1).
Be sure to follow me at https://www.instagram.com/thisiscrob/