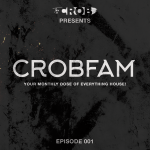 Thanks for tuning into the seventeenth episode of CROBFAM! Your monthly dose of everything house! From bass to tech, from future to trap we have it all!
For this months episode I invited yet another DJ-duo to the show; WHKRS all the way from the Czech Republic! These guys are the definition of GO HARD OR GO HOME! So be ready to be blasted away by their guest mix.
As usual I'll warm up the decks in the first hour of the show, followed by WHKRS their guest mix in the second half of the show! Enjoy!
A new episode of CROBFAM is broadcasted every last Tuesday of the month at EJRRADIO.COM from 6 to 8PM EST (24:00 – 02:00 GMT+1).
Be sure to follow me at www.instagram.com/thisiscrob/
You can find out more about our special guest WHKRS by visiting their socials at:
www.instagram.com/whkrsmusic/