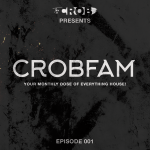 We've already reached the final episode for this year, thus going out with a big bang. Happy holidays and a happy new year in advance! A big thank you to everyone who tuned in this year and of course also a big up to all the DJ's that joined the show in the last 12 months.
In this episode I'm kicking things of with a 1-hour mix followed by a trip down memory lane, rebroadcasting my live performance at Tomorrowland in 2016. Hope you'll enjoy! See you guys next year!
A new episode of CROBFAM is broadcasted every last Tuesday of the month at EJRRADIO.COM from 6 to 8PM EST (24:00 – 02:00 GMT+1).
To keep up with everything CROB be sure to follow me at: https://www.instagram.com/thisiscrob/