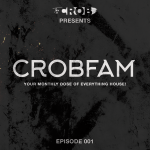 Proud to have the future pillar of the harder bass scene joining the show. Hope you're ready, better grease up those eardrums because special guest Beganie is going in hard!
As usual I'll warm up the decks in the first hour of the show, followed by Beganie his guest mix in the second half of the show! Enjoy!
A new episode of CROBFAM is broadcasted every last Tuesday of the month at EJRRADIO.COM from 6 to 8PM EST (24:00 – 02:00 GMT+1).
Be sure to follow me at https://www.instagram.com/thisiscrob/
& https://www.facebook.com/thisiscrob/
You can find out more about our special guest @Beganie by visiting his socials at:
https://www.instagram.com/beganie.mp3/
https://www.facebook.com/beganieofficial/