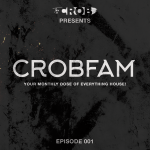 In today's episode we are going into main stage territory, so get ready to put your hands up in the air! The brothers Jeffrey & Mitchel vd Lugt, better known as Art of Vision are joining the show to talk about their musical journey and of course they will also drop a guest mix.
As usual I'll warm up the decks in the first hour of the show, followed by Art of Vision their guest mix in the second half of the show! Enjoy!
A new episode of CROBFAM is broadcasted every last Tuesday of the month at EJRRADIO.COM from 6 to 8PM EST (24:00 – 02:00 GMT+1).
Be sure to follow me at https://www.facebook.com/thisiscrob/
& https://www.instagram.com/thisiscrob/
You can find out more about our special guest Art of Vision by visiting their socials at:
@artofvisionmusic
https://www.facebook.com/artofvisionofficial/
https://instagram.com/artofvisionofficial/