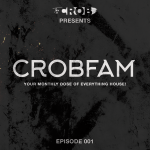 Fresh on the heals of weekend two of Tomorrowland, CROBFAM is going to continue the party with two hours of freshly mixed music!
And of course there is a special guest lined up. And oh boy, what a guest this is. This dude's mixing level is over 9000 and goes from track to track so swiftly, you barely have time to breath. He is known for always smiling and the fact that he played at Tomorrowland, Sunrise Festival and pretty much has performances lined up every weekend. I'm talking Dimitri Stoop, better known as…. SWIFT-D!
I'll warm up the decks in the first hour of the show, followed by Swift-D his guest mix in the second half of the show! Enjoy!
A new episode of CROBFAM is broadcasted every last Tuesday of the month at EJRRADIO.COM from 6 to 8PM EST (24:00 – 02:00 GMT+1).
Be sure to follow me at https://www.facebook.com/thisiscrob/
& https://www.instagram.com/thisiscrob/
You can find out more about our special guest Swift-D by visiting his socials at:
https://www.facebook.com/swiftdmusic/
https://www.instagram.com/swiftdmusic/