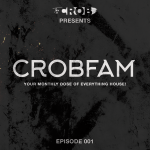 In this episode CROBFAM is taking you to the other side of the world, all the way to the magical island Sri Lanka home of special guest; Gerald Fonseka better known as Selectro(!) who is joining the show to talk about ministry of crab 🦀 and his three-years-in-a-row performance streak at Tomorrowland and more!
I'll warm up the decks in this groovy episode with of course in the second half of the show Selectro his one-hour guest mix.
A new episode of CROBFAM is broadcasted every last Tuesday of the month at EJRRADIO.COM from 6 to 8PM EST (24:00 – 02:00 GMT+1).
Be sure to follow me at https://www.facebook.com/thisiscrob/
& https://www.instagram.com/thisiscrob/
You can find out more about our special guest Selectro by visiting his socials at:
https://www.facebook.com/selectro.lk/
https://www.instagram.com/selectromusic/