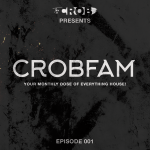 Wie gehts!? In todays episode my German friend MICHAEL BLAZE is joining the show for a guest mix and to talk about Frankfurters and hot sauce.
Also by popular demand the first half of the show -for the first time after it's initial broadcasting- will be my live-set I did for THIS IS CROB & FRIENDS 2018 earlier this month. Thanks FAM for sending in those request ❤️
A new episode of CROBFAM is broadcasted every last Tuesday of the month at EJRRADIO.COM from 6 to 8PM EST (24:00 – 02:00 GMT+1).
Be sure to follow me at www.facebook.com/thisiscrob/
& https://www.instagram.com/thisiscrob/
You can find out more about our special guest Michael Blaze by visiting his socials at:
https://www.facebook.com/MichaelBlazeofficial
https://www.instagram.com/michaelblazeofficial/