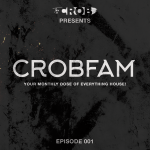 Thanks for tuning into the FOURTH episode of CROBFAM!
Last month episode was all about that bass, no treble 😉 and today is all about those raw and sexy beats! So put on your dancing shoes and be ready to get your deep and tech groove on!
As special guest I'm happy to have my good friend and crowd mover of the underground, Trickkit joining the show to do some serious damage in the second half of the show!
A new episode of CROBFAM is broadcasted every last Tuesday of the month at EJRRADIO.COM from 6 to 8PM EST (24:00 – 02:00 GMT+1).
Be sure to follow me at facebook.com/thisiscrob
& instagram.com/thisiscrob
You can find out more about our special guest Trickkit by visiting his socials at:
@trickkit
www.facebook.com/djtrickkit/
www.instagram.com/trickkit/
trickkit.nl