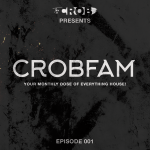 Thanks for tuning into the third episode of CROBFAM!
In this months episode we're diving deep into the bass house underground. So be prepared to have your home's foundation shaking and trembling….
And as special guest we have the king of bass, LAMMER spitting his fire in the second half of the show.
A new episode of CROBFAM is broadcasted every last Tuesday of the month at EJRRADIO.COM from 6 to 8PM EST (24:00 – 02:00 GMT+1).
Tracklist:
Be sure to follow me at facebook.com/thisiscrob
& instagram.com/thisiscrob
1 minute wasn't enough? You can find out more about our special guest LAMMER by visiting his socials at:
@lammerofficial
www.facebook.com/lammerghini/
www.instagram.com/lammerghini/